May 6th, Annually

The celebration of National Nurses Week is held yearly and opens on May 6, which is the official National Nurses Day, and continues through May 12, which coincides with Florence Nightingale's birthday.





Nurses Day starts off a week of many celebrated events to honor the dedication and commitment of RN's and their contribution to the health care profession across the nation.





Events include honorary dinners, banquets, professional workshops and seminars, and local city and state participation in events to honor nurses. Nurses Week is a time when doctors, patients, co-workers, family, friends, and others let the nurses in their lives know how much they appreciate them with gifts, cards, flowers, candy, and dinners.




Dorothy Sutherland, of the U.S. Department of Health Education and Welfare, proposed to Eisenhower in 1953 to proclaim a Nurses Day starting in 1954, but the proclamation never took place.




National Nurses Week was observed just the same in 1954 from October 11 through October 16, to mark the centennial anniversary of Florence's Nightingale's Crimean War mission, which came about based on the reports making their way back to Britain regarding the condition and care of the wounded.




In the fall of 1854, Nightingale and 38 other female volunteer nurses were dispatched to the Ottoman Empire to the location of the British encampment. There was a shortage of medicine, a disregard for hygiene, and infections were rampant and often fatal.




It was here that the dedicated Nightingale earned her famous nickname, "The Lady With the Lamp," because even after the rest of the medical staff had retired for the day, she still persisted in making her solitary rounds in the dark.





It was not until 1974 that Nixon finally proclaimed an official National Nurses Week, and in 1982 May 6th was designated National Nurses Day by President Ronald Reagan.




Not to be confused with National Nurses Day, another celebrated day falls within Nurses Week designated solely to school nurses, and is referred to as National Student Nurses Day. It falls on the Wednesday within National Nurses Week each year.



It is on May 12, Florence Nightingale's birthday, when International Nurses Day is celebrated each year. The International Council of Nurses creates and distributes to nurses kits that contain useful information and materials for nurses around the world.



The International Nurses Day (IND) 2012 theme is "Closing the Gap: From Evidence to Action."
The kit materials can be downloaded at the ICN (International Council of Nurses) website at www.icn.ch.
If you know a nurse, be sure and remember them with even the smallest token of appreciation on Nurses Day, May 6.
They deserve it!
Information provided from http://www.greetingcarduniverse.com/holidays/nursesday.asp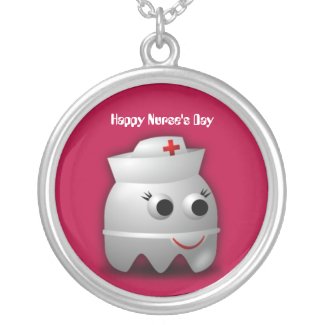 Happy Nurse's Day with computer character as nurse
by
GOLDENJACKAL
Links - Please visit and have a look around
My Squidoo lenses - if you like what you see please click the "like" button at the top of the page on each lens and help my ratings :-)